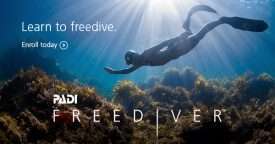 Invest half day learning about the exciting sport of freediving, this especial program consist of a short theory and extensive practical work in the ocean. This is the perfect introduction of the beauty of breath-hold diving and is a real eye opener for people who are not sure about getting involve in a full course.
The Discover freediving Program includes:
Verification of training: Bonaire freediving School Certificate
Duration: 1/2 Day. Knowledge development, Introduction to the very basics of freediving, recreational tour
Basic Freediving Equipment
One on one private training
Price $140
Price for a group of 4 $98 p/p
Requirements: Be 18 years of age or older, medical statement and know how to swim.
Private and semi-private, no more than 4 students per class
Important!
For all freediving courses, please download and review the AIDA medical statement & Liability release forms, if you say YES to any questions you need to get doctors approval to take part in the course. If you have any questions send us an email to info@sabafreediving.com
AIDA International liability release form